If you are new to guitar you are probably wondering how the strings of your guitar relate to sheet music. Everyone likes to play popular music and wouldn't it be nice if you could read the musical notes that you hear?
A lot of musicians play by ear, which means they don't necessarily read the notes that they are playing but they listen and then find the notes on their guitar by experimentation. After awhile the musician learns where the notes are by rote. This takes a lot more time than just learning to read musical notes on a musical staff.
A musical staff (called a treble clef) has 5 lines and four spaces. The five lines from the bottom up are Every Good Boy Does Fine and the space spell FACE.

Starting from the bottom of the staf EFGABCDEFG (See image below).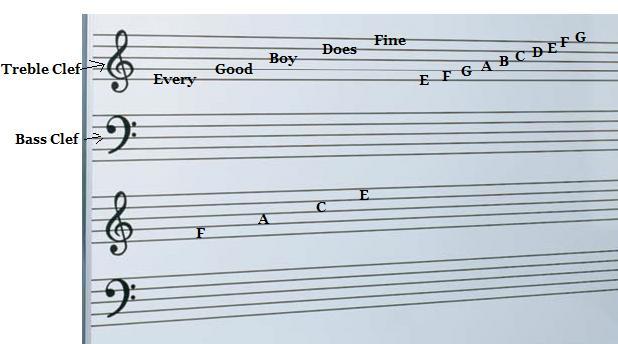 The top staff is called a treble clef and most instruments will play the notes on the treble clef. The bottom staf is called the bass staf and if you were playing the bass then you would play the notes on the second staf. If you were to play the piano, the left hand would play the bass staf and the right hand would play the treble staf.
If you are playing the guitar or piano you will want to play more than one note at a time to make a chord. A chord is usually three or more notes played together. Chords are played in a sequence called a chord progression.

If you want to make beautiful music on your guitar then it is important to learn the rules of music. It is said that mathmatics is the basis of all music and you will learn how notes are placed together to create musical harmonies.

What is tab music and how do you use tabs to play your guitar?

Your guitar has six strings and starting from the bottom string the open notes (where you do not placed your fingers on the fret) are E A D G B E. The first and the last strings are both E strings an octive apart.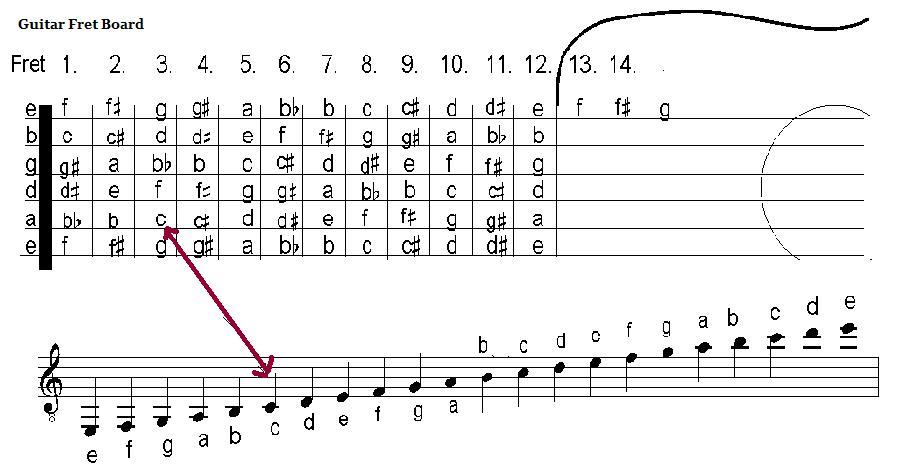 What is a scale?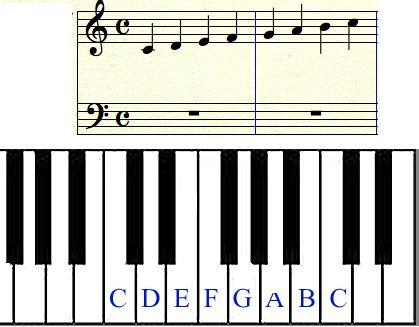 The major scale starts with a whole step (c to c# is a half step, c# to d is a half step, and so c to d is called a whole step. A whole step is made up of two half steps. As you can see on the piano
C C# D = 1 whole step, D D# E = 1 whole step, E F = a half step (note there is no black key between E and F), F F# G = 1 whole step, G G# A = 1 whole step, A A #B = 1 whole step, B C = a half step (note there is no black key between B C. So a Major scale starting on any note consists of 2 whole steps, a half step, 3 whole steps and a half step.
There is an abundance of free Guitar sheet music that can be found on the internet. There are many websites that offer free guitar tabs and popular guitar songs. We will continue our discussion on learning the guitar and learning the music theory that goes along with it in the next article.
Sheet Music Related Articles